World Barber's Day is held every year on 16th of September. It is a global initiative that shines a light on a humble yet powerful business, the barbershop. For one day a year, with the help of UNICEF, barbers unite with a common goal to donate their earnings to charity. Such a day is not only significant in demonstrating how individuals can work together to help those in need but also establishes the influence of the barbering trade.
Barbershops have enjoyed a long-lasting presence amongst global societies. Personal care and social experience are just a few services they provide. Perhaps more uniquely, barbershops are traditionally a staple amongst male-identifying customers and therefore provide a comfortable space for men to socialise. Now more than ever – I speak of course with reference to the Covid-19 pandemic – people have a greater appreciation of personal care services. To show my own appreciation, I have taken some time to learn about a local barbershop owner whose business philosophy stems from her awareness of the value of self-care.
I had the pleasure of interviewing Cristina Le Jeune, the founder of a local barbershop empire called Dandy's Barber Lounge. Formerly a Procter and Gamble brand manager, Cristina has transferred her skills to produce four barbershops, three of which are local to Geneva, as well as her own brand of Dandy products. Cristina is a significant and influential figure amongst Geneva's local barbershop owners, and demonstrates how persistence and discipline can foster great success for a woman in a male-dominated industry. She also exemplifies, through her business endeavours, that progressiveness can have a place in so-called traditional environments.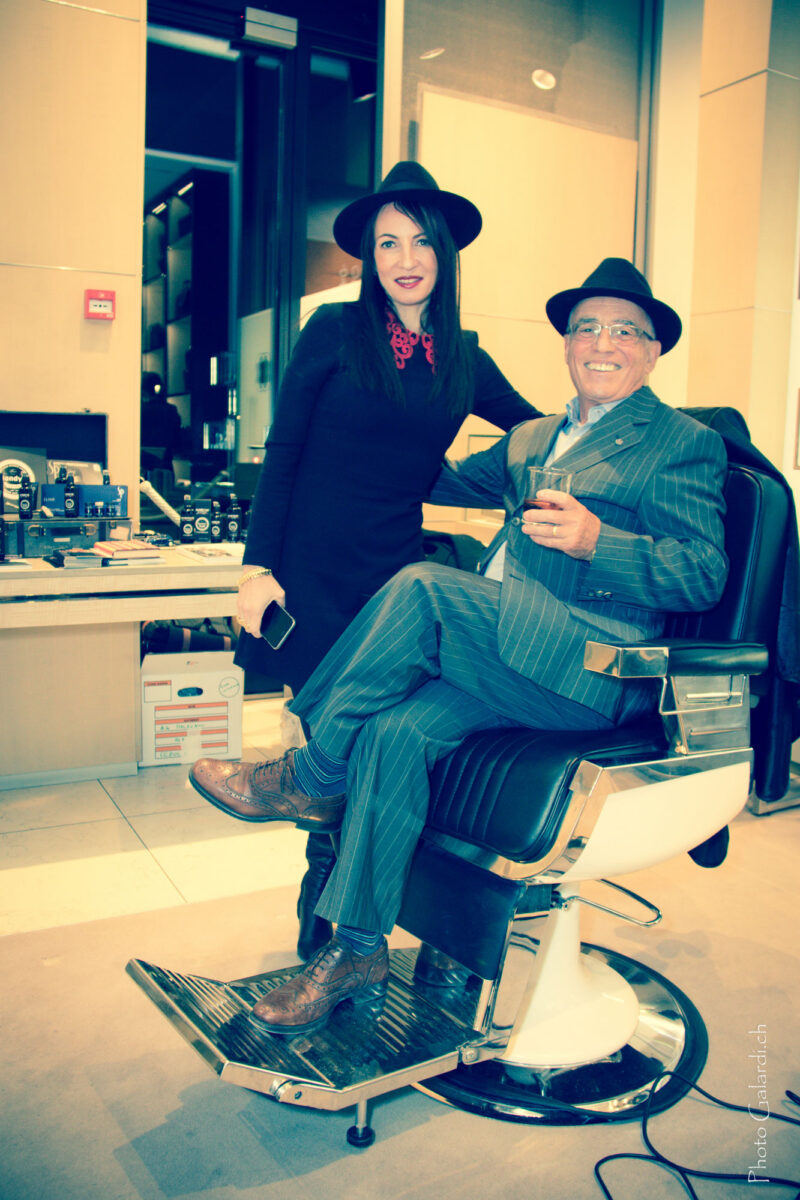 She explains that the inspiration behind the conception of her brand came from her grandfather who radiated a certain elegance and embodied an appreciation for properly presenting oneself. Whilst pregnant with her second son, Cristina left her previous job and soon decided that "it would be nice to have a place for my boys", and thus, Dandy's barbershop was born.
The term 'Dandy', which is defined by a man's attention to self-care, is the keyword to understanding Le Jeune's barbershop and stylistic philosophy. She explains that the shop belongs to the Dandies, individuals who: "don't care what people think" and who "build on the trend" because "they are the trend". As the brand's logo would put it, Dandy's is a place 'where men belong', and by making such an ambitious statement, Cristina illustrates that men belong in a place where you can "take care of yourself on both the inside and outside". Dandy is equally a term that when used within the context of Cristina's business, shatters traditional, often negative, constructs of masculinity by blurring the line between what is deemed masculine and feminine. The brand simply champions the necessity for personal grooming, a service that transcends gender.
Cristina's own inclusion within this male-driven industry is an example of a gender-redefining endeavour. Le Jeune has been transparent about some of her struggles as a woman in a business for men. She recognizes the double standards that exist and aims to disrupt these limitations. Her shops employ predominantly male barbers, intended to create an environment where it is comfortable for men to be themselves. With her decision, comes a recognition of power struggles between herself and her staff. Fortunately, Cristina ensures that discipline is the key to maintaining her brand and makes sure that she works with people who are like-minded and share her own values. Cristina's personal experience within this business furthers Dandy's intentions to surpass the toxic traits of traditional gender roles, whilst also maintaining some of their more elegant values.
Dandy's is a local example of how the barbershop trade offers a platform for empowerment that begins with the simple yet fundamental philosophy of self-care.